SALE - 10% OFF // Pre-order Outdoor 'Hudson' White Oak Dining Table // Beveled Edge Profile // Steel Frame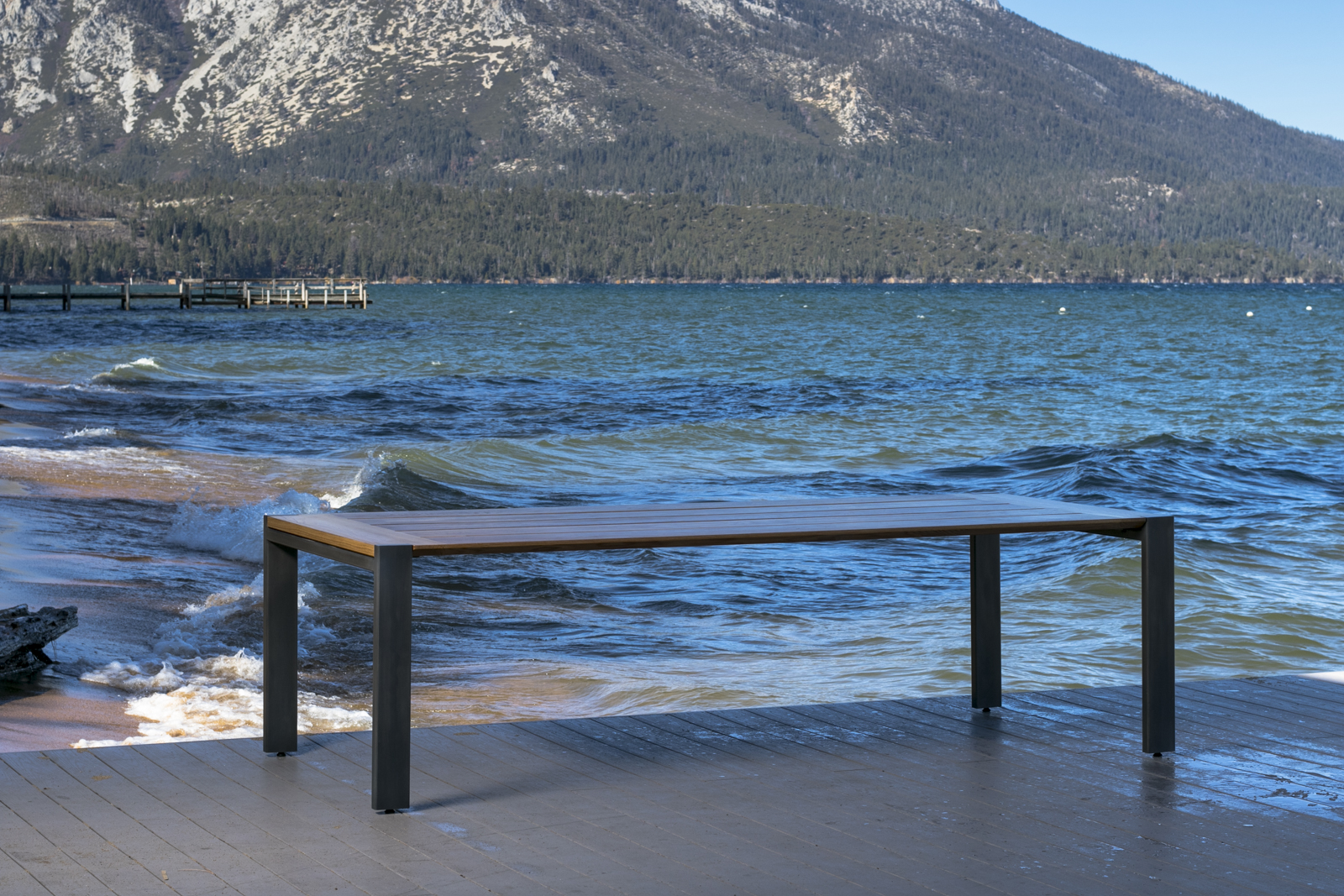 SALE - 10% OFF // Pre-order Outdoor 'Hudson' White Oak Dining Table // Beveled Edge Profile // Steel Frame
10% off - LIMITED TIME ONLY!
SALE DATES: March 25th - April 12th
This item is listed for Spring pre-orders only and does not include shipping or delivery costs.
All of our designs are made-to-order. Please contact us prior to purchase to discuss custom order details at contact@mezworks.com.
S U M M A R Y //
Currently accepting orders for May 2019 delivery.
The 'Hudson' design is customizable in a variety of materials, finishes and dimensions. The corners of the wood are notched to fit the steel "H" parsons frame and a thin angled profile is implemented on the long edges of the wood for sleek and soft aesthetic.
The example in the listing photos is an outdoor table using natural white oak finished with an outdoor varnish on the wood and powder-coat on the steel frame. There is a 1/4" gap between each board to allow moisture and air to flow through, preventing water from settling into the tabletop. Also an 1/8" stand-off between the wood and steel frame so moisture isn't trapped.
S H I P P I N G //
Please send zip code for an accurate carrier quote.
D E L I V E R Y //
Some orders within California or Northern NV qualify for personal delivery and installation. Please send zip code for delivery costs to your area.
sale
D I M E N S I O N S //
SMALL | up to 54"L x 24" - 28"W x 29.5"H | $2590 limited time sale price $2330
SMALL WIDE | up to 54"L x 30" - 36"W x 29.5"H | $2790 limited time sale price $2510
SML/MED | up to 60"L x 28" - 34"W x 29.5"H | $2990 limited time sale price $2690
SML/MED WIDE | up to 60"L x 36" - 40"W x 29.5"H | $3190 limited time sale price $2870
MEDIUM | up to 72"L x 28" - 34"W x 29.5"H | $3390 limited time sale price $3050
MEDIUM WIDE | up to 72"L x 36" - 42"W x 29.5"H | $3590 limited time sale price $3230
MED/LRG | up to 84"L x 34" - 36"W x 29.5"H | $3790 limited time sale price $3410
MED/LRG WIDE | up to 84"L x 38" - 44"W x 29.5"H | $3990 limited time sale price $3590
LARGE | up to 96"L x 36" - 40"W x 29.5"H | $4290 limited time sale price $3860
LARGE WIDE | up to 96"L x 42" - 48"W x 29.5"H | $4490 limited time sale price $4040
LRG/XL | up to 108"L x 36" - 42"W x 29.5"H | $4790 limited time sale price $4310
LRG/XL WIDE | up to 108"L x 44" - 48"W x 29.5"H | $4990 limited time sale price $4490
XLARGE | up to 120"L x 36" - 42"W x 29.5"H | $5290 limited time sale price $4760
XL WIDE | up to 120"L x 44" - 48"W x 29.5"H | $5490 limited time sale price $4940
W O O D F I N I S H //
OUTDOOR VARNISH | We apply several coats of an outdoor varnish that is UV protective, water-repelling, and resistant to most outdoor conditions. Although the finish withstands outdoor climates and can hold up against many extreme conditions, we recommend using a cover when the table is not in use so as to best maintain the table's finish.
COST | $0 (included in pricing)
*OPTIONAL* | "WHITEWASH" WOOD BLEACHING TREATMENT | This treatment involved applying several coats of a bleach solution to the wood prior to applying the finish. The outcome lightens the color of the wood to a softer shade, removing some of the yellowish tones for subtler coloring.
UPGRADE COST | +$145
*Please note, with ANY finish, taking certain protective precautions will reduce the risk of causing damage to the finish/wood. Here is a link to some suggestions/guidelines that will help maintain the longevity of your table's finish: http://www.mezworks.com/care/*
S T E E L F I N I S H O P T I O N S //
1. CLEAR POWDER-COAT | This will preserve the natural color of the steel, but will protect it from staining and rusting and requires no upkeep. The steel is ground and polished and will remain natural and bright.
COST | $0 (included in pricing)
2. COLOR POWDER-COAT | Powder-coating would allow us to achieve just about any color, matte or glossy. If you are unfamiliar with powder-coating, it is a free-flowing dry powder that is applied electrostatically and is then cured under heat to allow it to form a hard finish that it tougher than conventional paint. It's used mainly for coating auto parts, bike parts and outdoor furniture which require super durable and water resistant finishes. Colors are limitless, but typically our clients prefer a simple black powder-coat. We can arrange to have the legs professionally powder-coated by a pro steel shop in our neighborhood, who charges accordingly for different dimensions.
COST | $0 (included in pricing)
*Some special order colors will require an upgrade cost*
3. BLACK MAGIC PATINA + CLEAR POWDER-COAT | *AS PICTURED IN LISTING PHOTOS* | This finish is going to give off a more industrial look, bringing the color of the legs to a deeper/darker grey. Several hand-rubbed coats are applied to the steel legs, allowing drying times between and repeating the application several times until the desired color is reached. This process combines the patina and clear coat for maintenance-free durability.
UPGRADE COST | +$95
C H O O S I N G T H E R I G H T S I Z E //
For use as a dining or kitchen table, bar or conference table: If you are unsure of the exact dimensions your needs require, please consider the following basic guidelines:
Provide each guest 24-30 inches of space at the dining table (chairs range from apprx 16-20" and require at least 6" of space on each side to allow guests to seat comfortably)

Add an extra 12 inches at each end for those seated at the head and foot of the table

Allow for at least 36 inches between the dining table and any walls or other furniture